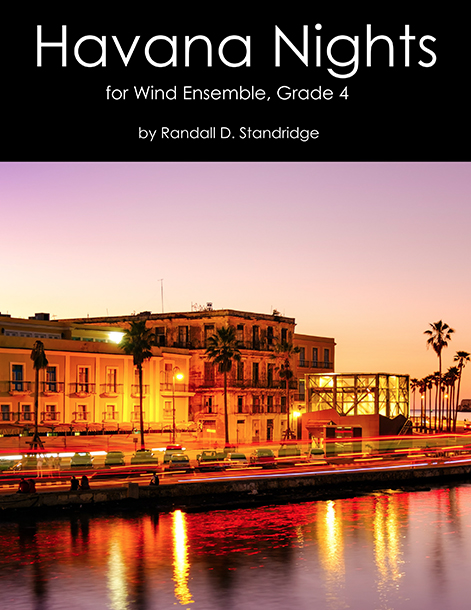 Havana Nights
Havana-Nights-Score-Watermarked.pdf
My musical tastes are wildly eclectic. One moment, you might find me enjoying Beethoven's symphonies and the other you might find me head-banging to Iron Maiden. I have never been a musical snob and I value and love the entire array of sounds, rhythms, and textures that the world of music, in all its forms, has to offer.
One genre I have a particular affection for is mambo. Being introduced to the style when I was in High School, I was enchanted with the melodies, rhythms, and excitement that it generates. As I dug more deeply into the style, I was introduced to the work of Yma Sumac, Tito Puente, Pérez Prado, and others. I was absolutely enchanted.
Havana Nights is a concert work for Wind Ensemble, but it was also conceived as a short ballet. The action takes place in the mambo clubs of Havana as our heroine (Havanna) dances her way through the night life. She encounters another young dancer and the two begin a flirtatious, seductive conversation through the art of movement. As the ballet comes to a close, Havanna casts one final, gleeful look at her would-be suitor before escaping into the night.
This work was commissioned by District 10 of the Ohio Music Educators Association for their 2018 District 10 OMEA Honor Band. I would like to thank them for trusting my creativity and allowing me to create something "entirely else" for wind ensemble. Thank you for letting me use my musical voice.
Also, this work is dedicated to one of my composition professors, Dr. Tom O'Connor. I absolutely could not have done any of this without your guidance, advice, and encouragement. I am forever in your debt.
Peace, Love, and Music.
Published by Randall Standridge Music, LLC
Digital: $85.00
Physical: $95.00
SPECIAL SALE! – Buy One work and receive a 50% Discount on a digital download of it's flex/standard counterpart!) Only good through Randall Standridge Music directly…if you have already purchased one of the versions, send us a receipt of the first purchase and still receive the 50% discount on the corresponding Flex/Standard download.
Digital Copy (PDF and Site License) – $85.00
Printed Copy – $95.00
Available for online purchase and from Major Music Distributors
Message for purchasing options: https://live-standridge.pantheonsite.io/contact/