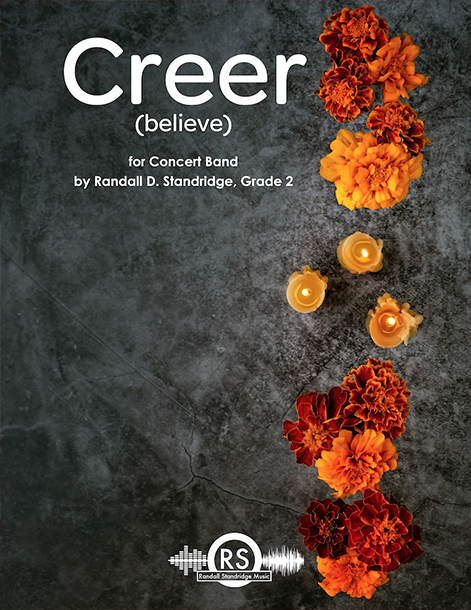 Creer
About Creer
Time will tell what the historians will say about the Covid-10 Pandemic which began in late 2019. Some will argue about its global ramifications, but for myself, the real tragedy is in the smaller stories. It is in the time that we have lost with family and friends. It is in the graduations, holiday gatherings, and communal celebrations that were foregone. And, of course, in the lives that have been lost.
Creer was commissioned in memoriam of one such soul lost to this pandemic. Sandy Rodriguez was the secretary for Ropes Elementary School in Ropes, Texas. By all accounts, she was a beacon of light for the students and community at large. Her rallying cry "Believe!" serves as the inspiration for this work.
The piece begins with a solemn motive stated in guitar, before blossoming into a series of lush chords. A solo trumpet enters next, offering a small, nostalgic melody in memory of those gone too soon. The work develops as the voices find more strength, before arriving at a powerful climax, reminding all of those listening that, even in the darkest of times, to continue to believe. Ultimately, the work is a contemplation of loss, hope, and memory.
Creer was commissioned by the Ropes High School Band (Ropes, TX) and their director, Mrs. Ashley Blount. I wish to thank them for allowing me to create a small offering in memory of Sandy.
Peace, Love, and Music.
Digital: $60.00
Physical: $60.00
SPECIAL SALE! – Buy One work and receive a 50% Discount on a digital download of it's flex/standard counterpart!) Only good through Randall Standridge Music directly…if you have already purchased one of the versions, send us a receipt of the first purchase and still receive the 50% discount on the corresponding Flex/Standard download.
Digital Copy (PDF and Site License) – $60.00
Printed Copy – $60.00
Available for online purchase and from Major Music Distributors, such as JW Pepper, Stantons, Penders, Music and Arts, Popplers, and others
Message for purchasing options: https://live-standridge.pantheonsite.io/contact/